5 Unexpected Gifts From My Studio Move
Sep 14, 2022
I've been in my new studio for about a month. The studio warming party was last weekend and we had a blast. I got to show people around. It felt like Christmas, a birthday party, and an open house all at the same time. While it's just been really exciting to be in a new space, I've found the move to be more transformative than I expected. Other artists have told me that moving out of my home studio would change things, but I had no idea how much.
My main reason for moving to a studio space was to have more room and to also be able to easily entertain guests and clients. What I wasn't expecting was receiving so much more than space and better hospitality options. I was given solutions to problems I've struggled with for years.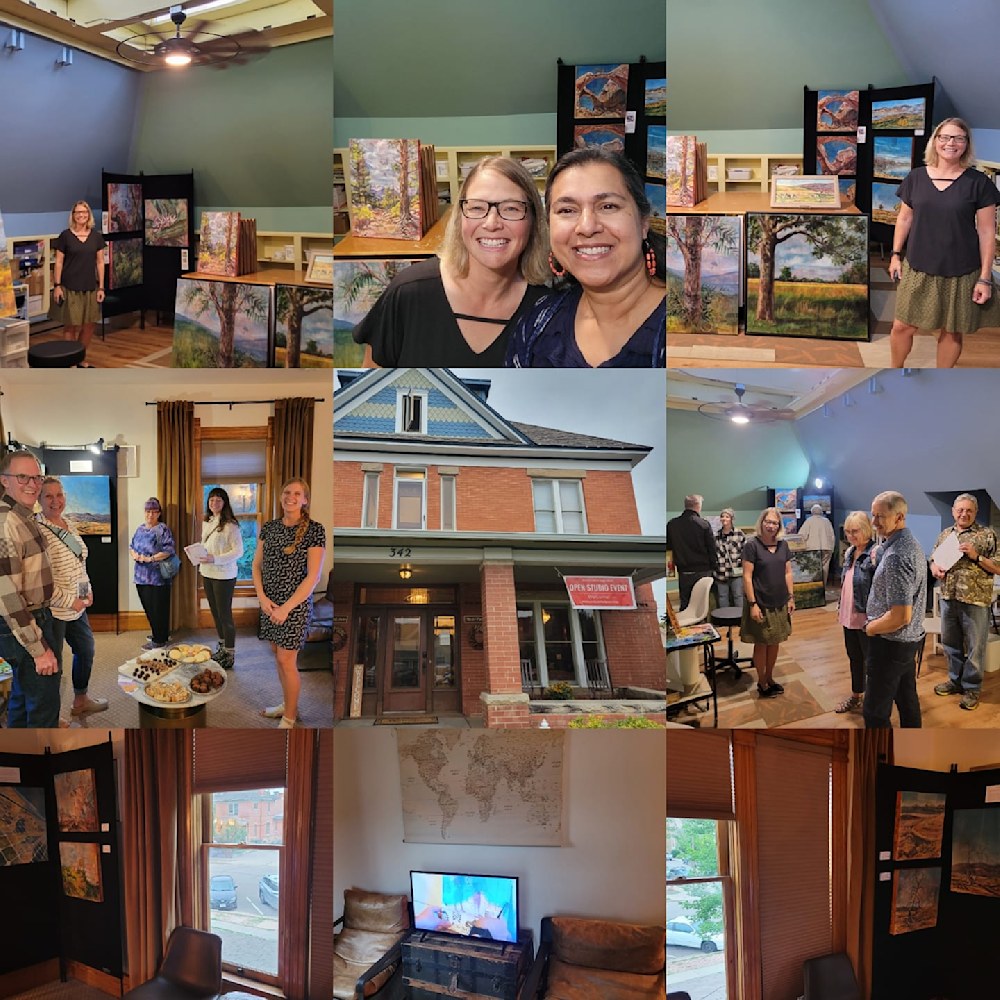 Here are a couple gifts I've received by moving to an external studio space:
1. Improved Focus: One of the first things I noticed after working in the studio for a month is that I when I'm working in the studio, I'm more focused and productive. I get tasks done efficiently because I'm not pulled in various directions and I can lean into the work I'm doing rather than having one foot in my role as artist and role as homeowner, mom, wife, etc. I'm at the studio to work and my brain is benefitting from that very clear distinction.
If you find yourself struggling to focus, you might want to look into a space that is more removed from your home life. This can take many forms from a out building or garage at your home, a group studio space or a special room that is dedicated to your work. We all start somewhere. Emily Dickenson had a simple desk dedicated to her writing that helped her separate her work from her home life.
2. Renewed Commitment: Another thing I quickly noticed was a deeper sense of commitment to my work and business because now, I'm paying for space to create my work and run my business. When I worked at home, I could be derailed from my plans by the growing list of volunteer and home needs. When the rest of life became busy and overwhelming, the first thing to go was my work. Now that I pay for my space, that's not an option. This step of trust and faith has been a catalyst to making changes in my routine and schedule to ensure that I can show up Monday through Friday.
3. New Sense of Professionalism: While I still work in my grubby paint clothes, I have found that my level of professionalism has increased. I'm taking myself more seriously as a business person and artist. I find it easier to make choices and have my back because of this shift in mindset. Taking the leap to have a studio space was a big part of me taking myself seriously and these other things are simple residual benefits.
4. Constant Learning Environment: In my month at the studio, I've been constantly learning what works and what doesn't. The learning curve is steep, from knowing what to take home with me and what to leave at the studio to organizing and storing supplies to learning how to partner and work with my landlord and fellow renters. These are all new scenarios for me and while it's not always easy or comfortable, as my business coach, Teresa, would say, I'm getting comfortable with being uncomfortable, knowing that the end result will be tremendous growth.
5. Establishing of Boundaries: When you remove your work space from your home, it is much easier to establish boundaries between home time and work time. While I'm not very good at it yet, my goal is to leave all the art and business at the studio when I close the door and allow myself to be fully present for my friends and most importantly, my family. While it is nearly impossible to turn off my entrepreneurial brain, I feel like removing temptations like computers, half-finished paintings, paperwork, etc, will help me make this important change in my life.
The other thing that establishing this distinct boundary is doing is helping me see the impossibility of my current workload. When you can work anytime and all the time via your basement studio or your laptop, you can end up letting all your hours be consumed with paid and volunteer work. When you have to close up shop after 6 hours to pick up the kids and also adhere to the landlord's rules about regular hours, you have to take into account ALL the things you are trying to accomplish in those six hours. Is it feasible? If not, then some things have to go. I don't know if I would have been able to make the hard choices I have needed to make if I had stayed at home.
While moving your studio outside of your home is not necessarily for everybody and each person has different needs for their work and life, I have found this move to be a huge blessing for my life. Easy? Nope. Not at all. But for my good and for that, I'm so grateful for the gift of a new studio and all the gifts that came with it.
If you missed checking out my studio at my warming party, stop by during the Loveland Art Studio Tour, October 8-9 and 15-16, 11 -5pm. By then, I'll probably have a lot more lessons to share!