Growing Where You Are: The Story of "Weathered Warrior"
Apr 13, 0022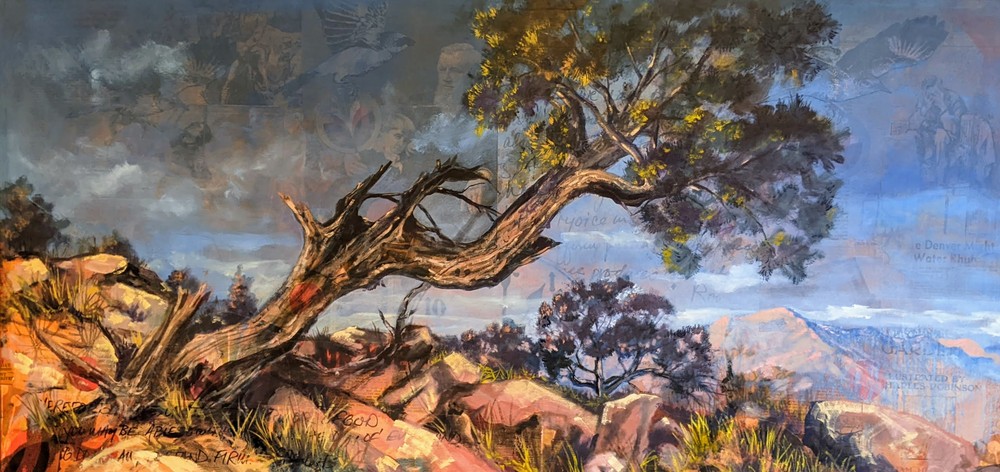 I've had a box of early 1900s newspapers for several years. A large majority of it contains news and info about World War I. Every time I would use some of the papers for a piece, I would avoid those sections because I didn't think they had anything to say for my work or anything to say to me or to people who view my work.
That changed last month.
A fellow artist at 45 Degree Gallery had shared some images of pinion pine trees that were located around the Garden of the Gods and also in places of her south western travels. I was captivated by the whorls in the bark, the deep grain and the organic, twisting movement of the trees. These guys had spunk and I wanted to capture that. I spent some time thinking about these trees and what they could tell me and ideas about persistence, endurance and faithfulness came to mind. I kept coming back to a verse in Ephesians that talks about doing all you can and then when you have done everything, you just stand. Stand firm. That's what these trees said to me. Remain. Refuse to give up and surrender to the adverse circumstances that surround me.
That's where the newsprint from World War I comes in. I finally found the perfect landscape for that somewhat depressing chatter about the war. The tone of the paper is dreary and overwhelming at times. The ads that surround the current event narratives helps to bring some levity, but my guess is that most folks felt pretty dried out and empty after reading the paper. Just like this landscape that surrounds the tree in this painting.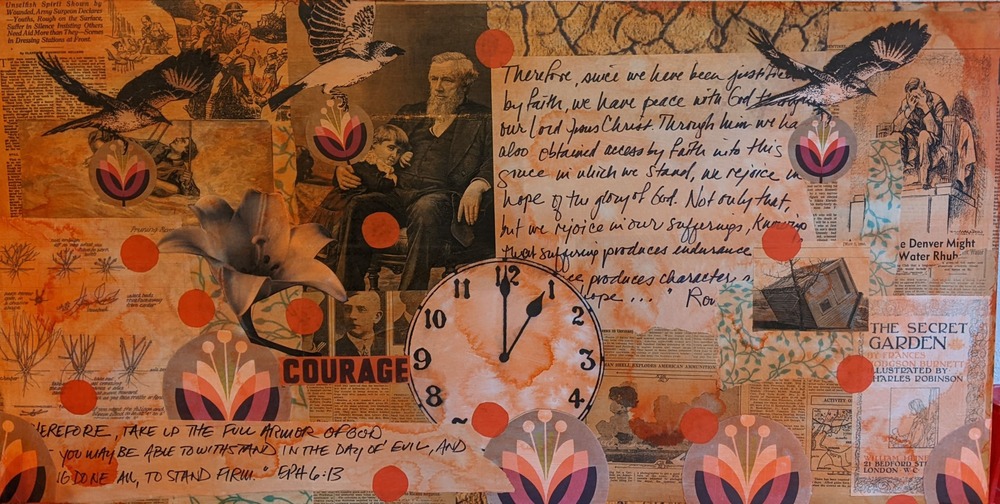 But I didn't want the story of this piece to be depressing. That's not what the pinion pine is saying. It's actually got quite a beautiful story of survival and hope. It might have had to twist and turn its way through the landscape to "make it" but you can tell by the foliage that the tree is thriving despite the rocks and dry ground. That's where the floral elements, the quotes, the pictures of aid and love come in. While the stories around us are often dreary and heavy, we are not left with just this narrative. There's a deeper story that is woven through all the pain and the hurt. Kind of like CS. Lewis's "deeper magic." Just like this tree, we have to dig pretty deep to get to this life-giving message, but it's there and it sustains us as we pivot, twist and endure through the hard stuff.
This painting was such a joy to create because it reminded me of the hope I have in Jesus. It reminded me that sometimes just standing is enough. Just breathing is enough. May you remember today, weather warrior, that you are not alone. You are loved and there is hope.